For anyone who has read Prestbury Past & Present Volume 2, by Norman Baker you will already be familiar with the original open field system in Prestbury.
Before the enclosures in England, land was generally under the control of the lord of the manor, but certain rights on the land were held by certain nearby properties, or manorial tenants. The Enclosure or Inclosure Acts spelled the end of the open field system and new fields were designed, new roads were added, and the land was eventually re-allocated to different farmers and Lords.
For Prestbury this took place in 1731 and until now we've only has a text description of the various plots of land, their size (in the old measurements of rods and poles) and the person with rights to the land. Until now no local archive or library has held the corresponding maps.
You can download this a PDF version of this (text only) document which has been scanned by volunteers at Cheltenham Local & Family History Library.
The Missing Maps Appear at Auction
We were recently made aware by Gloucestershire Archives of a volume which included some enclosure maps of Prestbury dated 1731, which was going to auction. This was a very exciting discovery with great potential to fill in many of the missing details relating to early land ownership in Prestbury.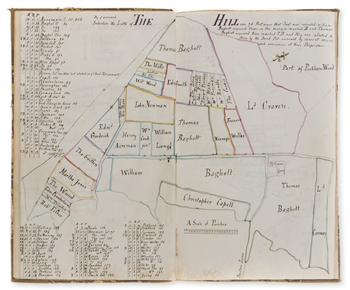 The auction price was estimated to start at £800. The Archives asked if the Society was able to financially support the bid. The committee decided to help with the bid for this important item of Prestbury history using £150 of membership funds. In the event of a successful bid, we requested a digital copy of the maps for our members use. Subsequently we received additional donations which enabled us to offer £300 towards the auction.
The Friends of Gloucestershire Archives, together with generous contributions from both Cheltenham and Prestbury Local History Societies were able to successfully bid at auction for a bound volume containing a number of maps of 'Prestbury Fields and Hill' as allotted by an inclosure act of 1731. The hammer price was £1000 (total price including fees and postage was £1,250).
Gloucestershire Archives have expressed their gratitude for the support of all three organisations involved to enable this document to be permanently preserved and made available to researchers. We are now eagerly awaiting a digital copy of the maps to be sent to us and look forward to being able to share them and any new revelations about early land ownership in Prestbury with PLHS members soon.